Image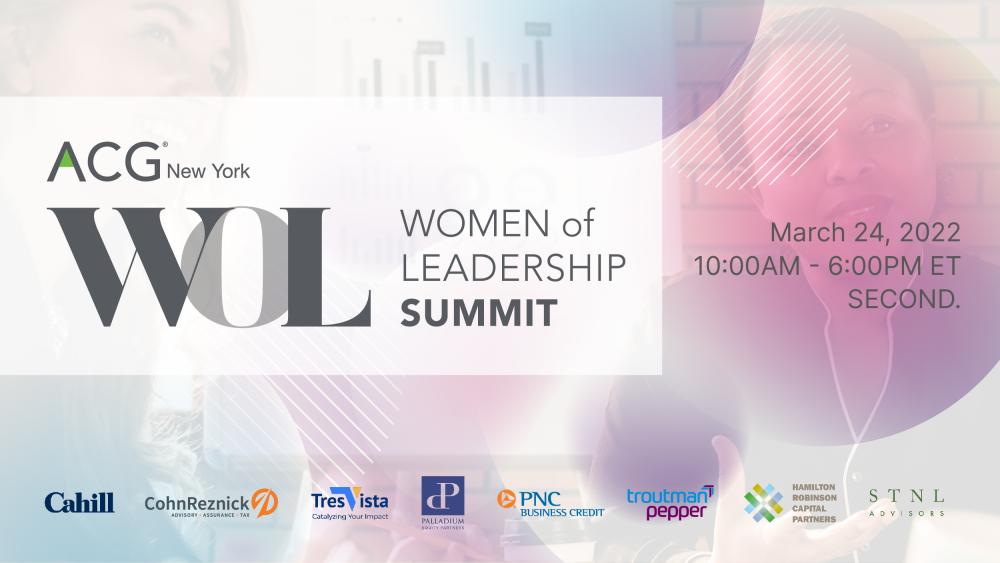 Event Details
When:
March 24, 2022 10 AM - 6 PM EDT
Where:
Overview
9th Annual ACG NY Women of Leadership Summit  
 
The ACG New York Annual Women of Leadership Summit is designed for established and emerging women leaders in the global middle market M&A community. The successful 2021 gathering focused on how women are shifting their professional direction in challenging environments, while simultaneously balancing their private lives. The forum always provides insightful speakers, one-on-one deal meetings, curated networking, ideas exchange and discussion of shared experiences.
2022 Theme
What Got Us Here - Won't Get Us There  
We live in a world where change is the the new status quo and we need to be ever more adaptable in work and in life. Effective change leadership centers around leading people not just processes and the ability to breakdown both personal and professional barriers to reach your goals. This year's WOL Summit will focus on just that - how to
lead through change and think creatively to drive value. Attendees of the ACG NY WOL Summit can expect to gain new connections and uncover new business opportunities.   
Please note that a percentage of event proceeds will be donated to ACG Cares.
Thank you to our sponsors!