Image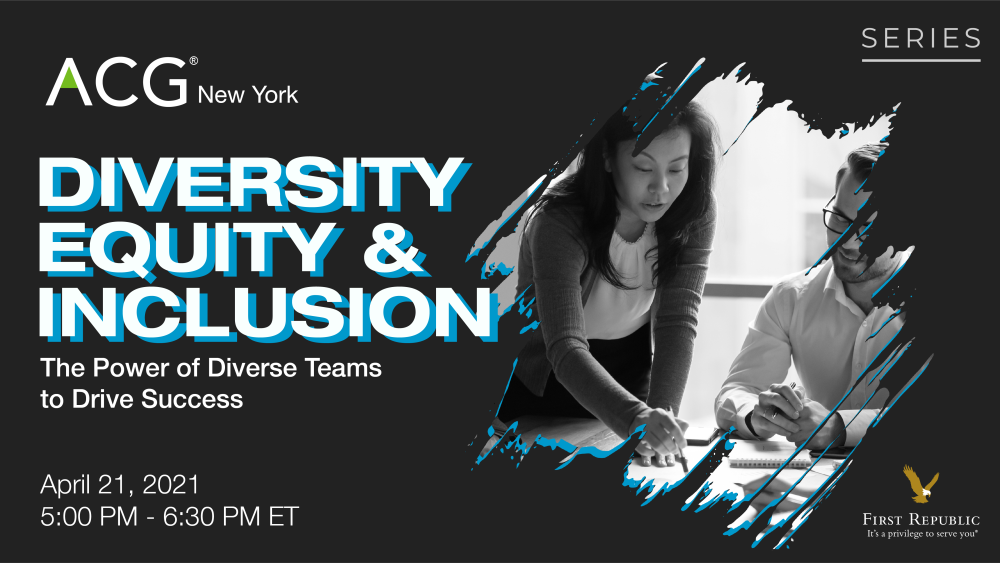 Event Details
When:
April 21, 2021 5 PM - 6:30 PM EDT
Where:
Add to Calendar
Overview
Body
REGISTRATION IS NOW CLOSED

ACG NY Diversity, Equity & Inclusion Roundtable Series: The Power of Diverse Teams to Drive Success
M&A leaders and dealmakers are actively seeking opportunities to improve portfolio performance whilst providing meaningful opportunities to diverse and female executives. Data suggests the two are not mutually exclusive.
The ACG NY DE&I Roundtable Series, for members and invited guests, will provide a forum for investors, be they LPs, GPs, VCs, Strategics, Family Offices and others on how they are proactively demonstrating DEI success within their allocations/portcos whilst driving returns. We will also hear from private equity & other investor backed organizations, sell side providers and industry leaders on their in-house DEI representation initiatives.
This Roundtable will cover: 
Learn how diverse teams boosts innovation, productivity and ultimately returns
Understand how diversity plays into better decisions
Hear about the downside of not pursuing a strategy of diverse teams in today's environment and demographics
Event Secondary Body
CHECK OUT THE FULL SERIES & DATES
Hosted by:
ACG
Sponsors
Attendee List
Event Materials
Event Materials
Please contact ACG New York for more information.
Pricing: Complimentary