Image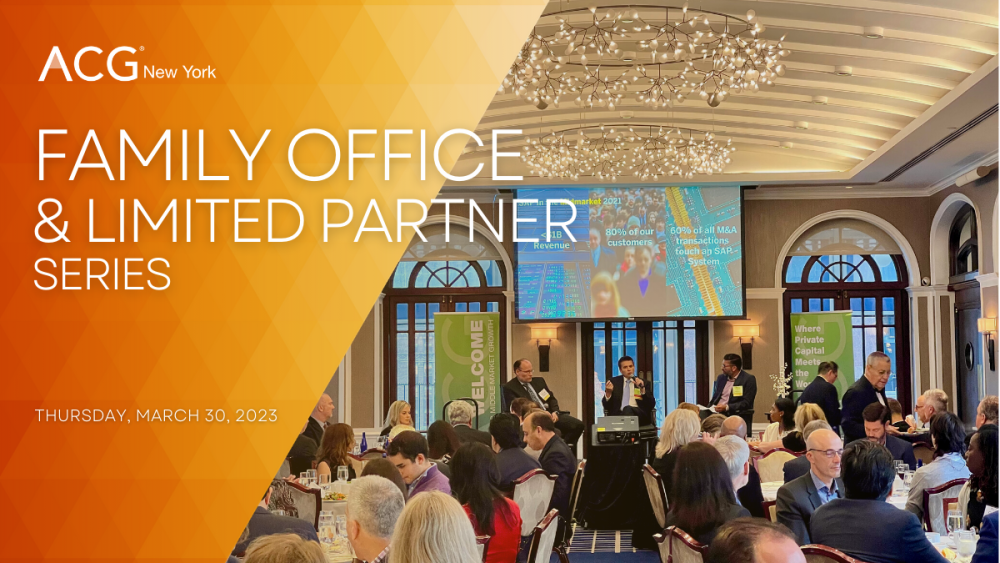 Event Details
When:
March 30, 2023 6 PM - 8 PM EDT
Where:
Location Name
The University Club of New York
Add to Calendar
Overview
Body
Family Office Deals in 2023 - Competition & Compensation
In 2022 Family Offices concentrated efforts on recovery, retaining employees and complying with increasing regulation. Sophisticated international Family Offices fought the effects of macroeconimic pressures and ramped up their direct deal investing efforts.
Now seen as bonafide competition to private equity, Family Offices are recruiting, retaining and managing their (deal) teams far better. In the next session of the of the ACG NY LP/FO networking meet our panel of experts discuss how SFOs are putting their powder to work, finding M&A talent and compensating teams to perform. 
Family Offices and LPs are complimentary upon approval contact ACG NY for approval.
Event Secondary Body
Panelists:
Image

Image

Image

Image

Dina Said Dwyer
Founder & Managing Partner
Eden Capital
Anna Dayn
Managing Partner
New End
Matthew Graziano
Director
New Mountain Capital
Brad Scholtz
Managing Director
Scott Capital Partners, LLC
Moderator:
Image

Corey Massella
Managing Director
UHY Advisors NY, Inc.
Lead Partner
Image

Partners
Media Partners
Bios: 
Image

Dina Said Dwyer
Founder & Managing Partner, Eden Capital
Dina Said Dwyer is the Founder, Chief Executive Officer and Chief Investment Officer of Eden Capital Management LLC, and a member of Eden's Investment Committee. Ms. Dwyer has more than twenty years of experience in the private equity industry. Prior to founding Eden, she served as a Managing Director at Unifund SA and was responsible for sourcing and executing transactions and oversight of Unifund's portfolio companies. Prior to Unifund, Ms. Dwyer was an Analyst at the Blackstone Group in New York and trained at the Carlyle Group in London. She serves on the Board of Directors of Wall Street Prep, Edcetera, and White Cup. Additionally, Ms. Dwyer serves on the Advisory Board of the Children's Rights Division for Human Rights Watch and is a member of the Board of Advisors of Columbia University's Mailman School of Public Health. Ms. Dwyer received a Bachelor of Science degree in Finance from the Wharton School of the University of Pennsylvania and an MBA from Columbia Business School.
Image

Anna Dayn
Managing Partner, New End
Anna Dayn is a Managing Partner and US head of New End, a multifamily office and capital formation firm in private markets. At New End, Anna partners and invests in high-growth companies, sponsors and investment platforms to provide business development and access to institutional capital. New End's investment and advisory activities extend to private debt, private equity, real assets and venture capital.
Anna has over 20 years' experience in funding, designing and implementing private equity investment programs. Before New End, Anna established the North American platform of XTP, a specialist cost transparency platform serving institutional investors. Anna previously served as the head of Private Equity at Cardano, a UK pension consultancy, where she ran a private equity program spanning $2bn of invested capital. Prior to that, Anna worked at Capital Dynamics and Rothschild.

Anna has served on the limited partner advisory boards of several private equity funds across North America and Europe, is a published author, media commentator, and a frequently featured speaker at investment industry conferences. Anna serves as Treasurer and Executive Board member of WAVE, the Women's Association for Venture and Equity, and is active on the New York Steering Committee for PEWIN, the Private Equity Women's Investor Network.
Anna received an MBA from the Wharton School and a BA in Economics from the College of Arts and Sciences, both at the University of Pennsylvania.
Image

Matthew Graziano
Director, New Mountain Capital
Matthew Graziano, Director, joined New Mountain in 2022, and is primarily dedicated to New Mountain's Strategic Equity strategy. He was previously an investment professional at Palladium Equity Partners, where he executed several of the firm's investments in the business services and consumer sectors. Prior to Palladium, Matthew worked in the consumer, food, and retail investment banking group at Duff & Phelps.
Image

Brad Scholtz
Managing Director, Scott Capital Partners, LLC
Brad has worked at Scott Capital Partners, LLC and its predecessor company since 2007.  His responsibilities include originating, evaluating and negotiating private equity and growth capital situations.  Brad's experience includes working with industrial manufacturing and business service companies, as well as several other industries.  Prior to joining Scott Capital, his career included working as an accountant at Arthur Young & Co, at various investment banking boutiques as a consultant to several major corporations and private equity firms, and as an independent sponsors.  Brad received his M.B.A. from New York University's Stern School of Business and his undergraduate degree from Washington and Lee University.
Scott Capital is a single family office investing directly in companies that offer the opportunity for solid, achievable growth and capital appreciation.  Scott Capital takes a long-term commitment to achieve significant growth and superior value for both employees and stockholders.  We focus our resources to furthering a company's growth prospects by finding complementary acquisitions, developing new product lines, accessing new markets, sourcing goods internationally, investing in capital equipment, and expanding facilities. 
Image

Corey Massella
Managing Director, UHY Advisors NY, Inc.
Corey Massella has more than twenty-five years of experience as an entrepreneur, tax, and business advisor, and as a specialist in SEC accounting and audit services. Additionally, Corey has experience serving as a Private Equity and Technology Industry Group Practice Leader for a Top Twenty accounting firm. 
Corey has successfully guided his clients through all facets of the mergers and acquisitions transaction cycle to help them make critical decisions, while ensuring transactions are strategic and seamless. He has deep experience advising private equity funds, hedge funds, banks, broker-dealers, investor relations firms, and various other financial services companies. As a business consultant, Corey has worked with CEOs and CFOs, as well as the boards of both public and private clients. He has performed due diligence and negotiations on both the buy and sell sides. Corey also has experience preparing business plans and initial public offerings (IPO), and with cash flow and productivity analysis to help scale businesses for growth, as well as extensive knowledge and experience in complex tax structuring and planning.
ABOUT THE SERIES
The VIP Family Office Series of events and programs is a strictly Single Family Office peer-to-peer series of meetings for ACG NY members and invited SFO guests. Participants can share and discuss Family Office best practices while developing relationships in a convenient, enjoyable setting.
 
Register to be approved for attendance or request a pre-approved VIP Invitation.
CHECK OUT THE FULL SERIES & DATES
SIGN ME UP FOR THE FULL SERIES
Hosted by:
ACG