Image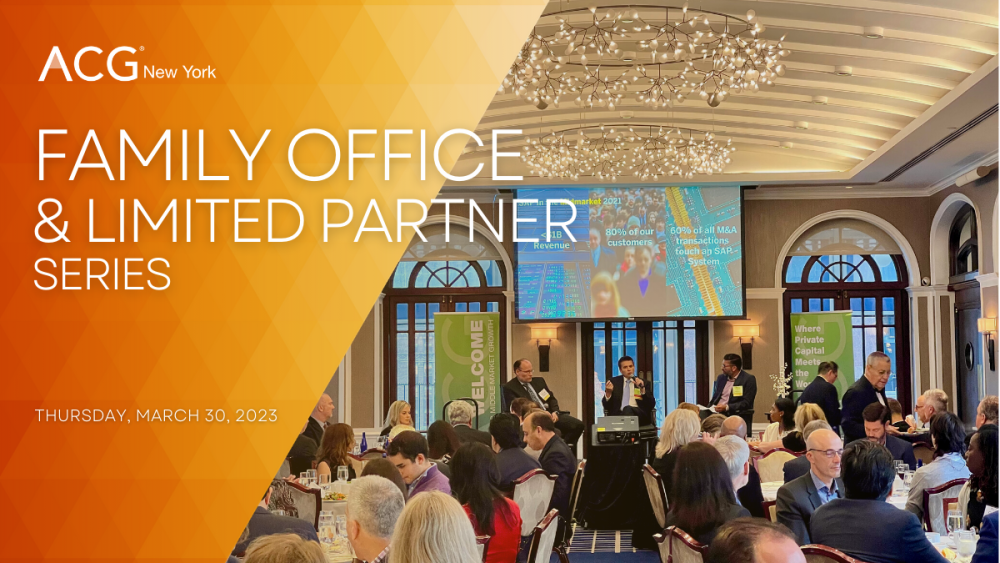 Event Details
When:
March 30, 2023 6 PM - 8 PM EDT
Cost:
$125 - $175
Where:
Location Name
The University Club of New York
Add to Calendar
Overview
Body
The VIP Family Office & Limited Partner Series of events and programs is a strictly Single Family Office and Limited Partner peer-to-peer series of meetings for ACG NY members and invited SFO, LP and other apt. guests. Participants can share and discuss best practices for Family Offices and Limited Partners while developing relationships in a convenient and enjoyable setting.

This new combined series for Family offices and multi type LPs is ideal for these groups who not only fund invest in middle market alternatives such as private equity but also co and direct deal invest.

Additional information on this series session will be announced soon!

This series is only open to Fund Managers, Family Offices and Limited Partners.
Event Secondary Body
Lead Partner
Image

Partners
CHECK OUT THE FULL SERIES & DATES
Hosted by:
ACG
Attendee List
Event Materials
Event Materials
Family Offices and LPs are complimentary upon approval. 
Pricing for Fund Managers:
$125 ACG Member 
$175 Non-Member 

Click here to register for this event
This event is only open to Family Offices, Limited Partners, and Fund Managers.

Click above to request registration or email vmagdani@acg.org.