Image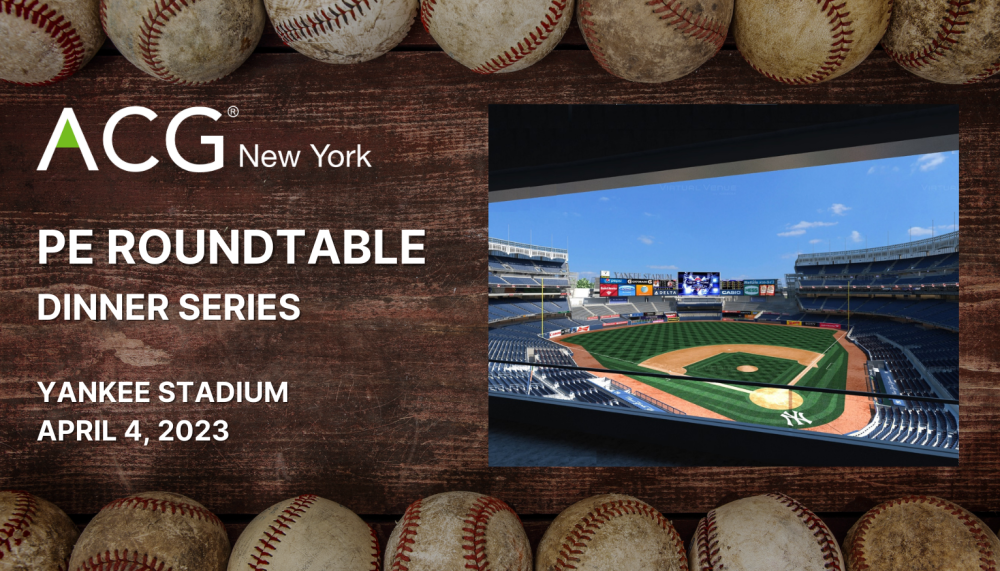 Event Details
When:
April 4, 2023 6:30 PM - 10 PM EDT
Where:
Location Name
Yankee Stadium
Add to Calendar
Overview
Body
This special PE Roundtable Event is stricly INVITE ONLY.  For more information, please contact us.
ACG NY will be hosting a very special edition of our PE Roundtable Series at a Private Luxury VIP Suite at Yankee Stadium on April 4th for the Yankees vs. Phillies game on Military Appreciation Day in Partnership with the ACG NY Veterans in the Middle Market Committee. 
Luxury Suites at Yankee Stadium feature two distinct areas thoughtfully designed for Guest interaction – a bar area with granite countertops and exquisite wood paneling, as well as a spacious lounge with plush leather furnishings and sliding glass windows overlooking two rows of exterior cushioned suite seats.
Details:
First pitch: 7:05pm ET
Tickets: will delivered electronically to attendee
Accomodations include:
Private viewing space
Food and beverage offerings
Parking passes
Exterior cushioned suite seating and
a climate-controlled interior space with a private restroom
Event Secondary Body
ABOUT THE SERIES
This ACG New York Private Equity Roundtable is a quarterly private dinner that hosts speakers to address topics that provide services and information designed to help PE firms operate their business (regulatory, management assessment techniques, sales performance improvement, developing strong investor relationships, fund raising, etc.). It is not designed to cover areas of interest in the Business Development Sector or Financial Controls. ACG NY provides other venues for these latter two disciplines.
These meetings are open only to Private Equity Firms and subject to the following criteria: North American funds with Committed Funds in excess of $100mm. Attendance is limited to one member from the PE firm at the Partner/ MD level who has firm-wide responsibilities that may include Business Development but NOT exclusively Business Development. Membership is on an annual basis and limited to 30 members.
CHECK OUT THE FULL SERIES & DATES
Hosted by:
ACG
Sponsors