Image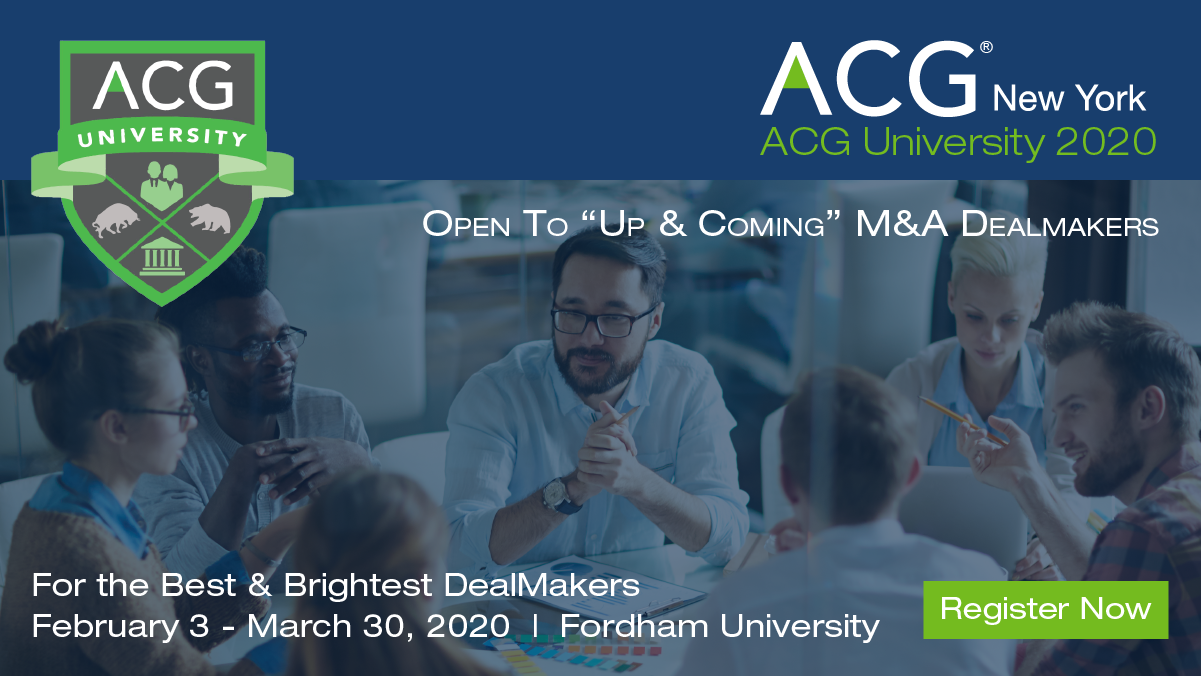 Event Details
When:
February 3 - March 30, 2020
Overview
Body
The Association for Corporate Growth (ACG New York), in partnership with Fordham University's Gabelli School of Business will be offering a 8-week course during the winter of 2020.  The course entitled M&A Dealmaking - Understanding the Private Equity Middle Market Ecosystem will be offered on Monday evenings (6pm-8:30pm) and will provide ACG New York members with an immersion into the middle market ecosystem and the operating dynamics of middle market companies.  The course will cover a range of topics related to private equity, relationship building, deal flow, corporate growth strategies, credit markets, accounting and legal matters.  Participants who complete the course will receive a certificate of completion from Fordham University.
Main Registration Closes on December 13, 2019.  If space permits, we will accept applications at a rate of $1495 after December 13th.
Event Secondary Body
ACG University is the single best networking/educational initiative for the brightest up and coming M&A dealmakers in New York. The course also welcomes those with greater experience looking to get a better understanding of the Private Equity Ecosystem.
Over 200 alumni have found ACG University to be a valuable tool for expanding their knowledge of the growing private equity industry and to enhance their future M&A dealmaking
capabilities.  Each year just 40 industry professionals are accepted into the three month certificate learning program which is led by some of New York's most successful, experienced  M&A dealmakers.  Now is the chance for you or someone on your team to apply!