Image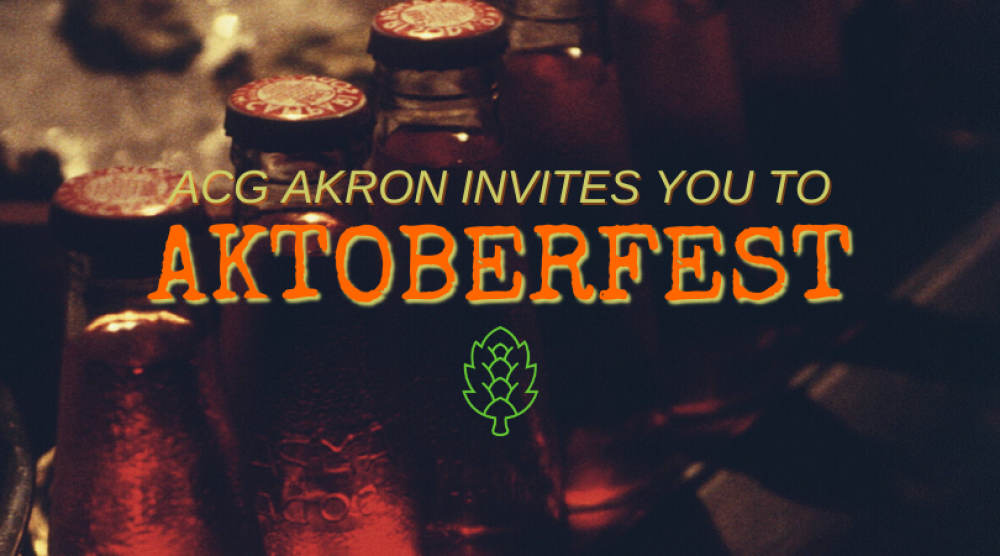 Event Details
When:
September 23, 2021 5:30 PM - 7 PM EDT
Cost:
$20 - $40
Where:
Add to Calendar
Overview
Body
The original Oktoberfest is an annual festival in Munich, Germany, held over a two-week period and ending on the first Sunday in October. It started in 1810 as a celebration of the marriage of the crown prince of Bavaria (who later became King Louis I) to Princess Therese von Sachsen-Hildburghausen. It was a five-day festival of community, frivolity, libations and good food.
And though Akron's AKTOBERFEST isn't celebrating a wedding, and won't be held across five days, we still think ours will be full of community, libations and great food.
Join us for our panel as we foster a conversation with Akron breweries about how they went from concept to company: from home brewing to raising capital, and what the future may hold.
Sample the offerings of each brewery at this event, and enjoy local cuisine from an Akron enterprise as we reproduce the Bavarian sense of gemütlichkeit —warmth, friendliness, and good cheer.
Any local or venue COVID-related protocols in place at the time of the event will be enforced. Your flexibility with regard to this evolving health crisis is appreciated.
Event Secondary Body
COVID-19 Protocol
ACG Cleveland is committed to the safety of all of our members and friends, and have taken all necessary precautions in hosting in-person events. These include:
Enforcing local or venue COVID-related protocols in place at the time of the event,
the strong encouragement of masks to protect un-vaccinable children and adults in the spheres of our members and friends,
encouraged social distancing of 6 feet in both indoor and outdoor spaces,
an ample supply of masks, hand sanitizer, and soap across the facility to  minimize the risk of viral transmission from guest to guest.
We will continue to maintain both the CDC's and the State of Ohio's recommended guidelines for gathering during the COVID-19 outbreak, and will update you with any changes to protocol.
After September 9, 2021: please cancel your registration (without penalty) if you have registered for this event, and any of the following applies:
if you have tested positive for COVID-19,
are waiting for COVID-19 test results,
have COVID-19 symptoms, or
if you have had close contact with a person who has tested positive for or who has symptoms of COVID-19.
Hosted by:
ACG