Image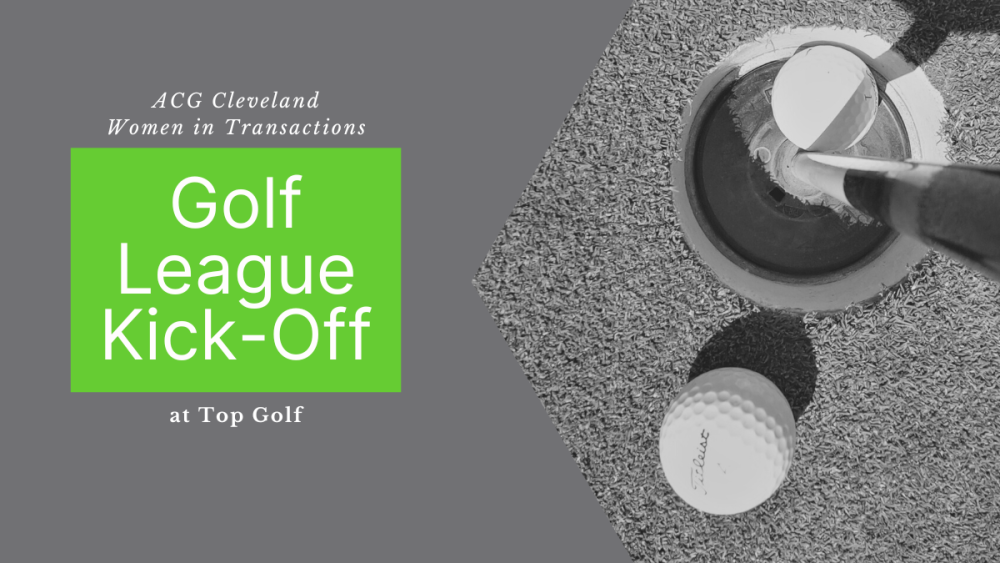 Event Details
When:
March 8, 2022 3 PM - 5 PM EST
Cost:
$20 - $40
Where:
Add to Calendar
Overview
Body
Join the Women in Transactions for our golf league kick-off event at Topgolf.
At this event, enjoy quality networking, hit a few balls, indulge in beverages and appetizers, but most importantly, learn more about the WIT 2022 golf initiative.
We want to see more ladies out on the course at the ACG Annual Golf Outing this year. So, we will be hosting clinics, an etiquette course, and putting together a league of ladies to golf one to two times a month at private and public courses across Northeast Ohio.
Who this Event is For:
Anyone new to golf looking to brush up on their skills, learn the rules of the game, and get some practice in.
If you've ever had even an inkling to pick up a set of clubs and hit a few balls, this event is not to be missed!
This event is currently sold out! If you would like information about our future golf league outings, please contact the ACG Cleveland administrative office.
Event Secondary Body
COVID-19 Protocol
ACG Cleveland is committed to the safety of all of our members and friends, and have taken all necessary precautions in hosting in-person events. These include:
Enforcing local or venue COVID-related protocols in place at the time of the event,
the strong encouragement of masks to protect un-vaccinable children and adults in the spheres of our members and friends,
encouraged social distancing of 6 feet in both indoor and outdoor spaces,
an ample supply of masks, hand sanitizer, and soap across the facility to  minimize the risk of viral transmission from guest to guest.
We will continue to maintain both the CDC's and the State of Ohio's recommended guidelines for gathering during the COVID-19 outbreak, and will update you with any changes to protocol.
After February 22, 2022: please cancel your registration (without penalty) if you have registered for this event, and any of the following applies:
if you have tested positive for COVID-19,
are waiting for COVID-19 test results,
have COVID-19 symptoms, or
if you have had close contact with a person who has tested positive for or who has symptoms of COVID-19.
Hosted by:
ACG