Image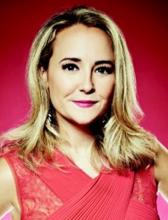 Founder, Managing Partner
Alexa von Tobel is the Managing Partner of Inspired Capital Partners, a venture capital firm which she founded in 2019.

She is also the Founder and former CEO of LearnVest and the New York Times- Bestselling Author of Financially Fearless. Originally from Florida, Alexa went to Harvard College and Harvard Business School before launching LearnVest, seeking to redefine the American approach to personal finance. Utilizing its core planning technology, LearnVest matched clients with financial planners to create simple, affordable financial plans. The company was acquired by Northwestern Mutual ("NM") in May 2015.

Alexa remained CEO of LearnVest while assuming a senior leadership role at NM as the company's first Chief Digital Officer and Chief Innovation Officer. She also served as an Executive Officer, member of NM's Operating Committee, and site leader of the company's greatly-expanding NYC office. The companies continue to accelerate digital transformation at NM through the integration of LearnVest's planning platform, digital tools, and personnel.

Alexa is a CFP®. She is a member of the 2016 Class of Henry Crown Fellows and an inaugural member of the Presidential Ambassadors for Global Entrepreneurship for the White House. Alexa has appeared on the cover of Forbes Magazine and has been featured as an expert in the Wall Street Journal, the New York Times, Good Morning America, The Today Show, CNN, Fast Company, Businessweek, InStyle, Rachael Ray, and more. She has been included in the Forbes Top 30 Under 30 list, selected as one of Fortune's Most Powerful Women and included in their 40 Under 40 list, named as one of the World Economic Forum's Young Global Leaders, listed on Inc. Magazine's 30 Under 30, noted as one of "18 Women Changing the World" by Marie Claire, and given a "Genius Award" from Elle. She is a columnist for Money Magazine, Cosmopolitan, and and hosts a weekly radio show on SiriusXM called Financially Fearless with Alexa von Tobel.
Alexa is The New York Times bestselling author of Financially Fearless and the forthcoming book Financially Forward (2019). She is also a columnist for Inc. Magazine and Vogue and hosted a show on Sirius XM Radio. She is a member of the 2018 Class of Henry Crown Fellows and an inaugural member of the Presidential Ambassadors for Global Entrepreneurship, a first-of-its-kind collaboration between celebrated American entrepreneurs, the White House and government agencies, including the Department of Commerce and the U.S. Agency for International Development. She is an active angel investor with Blue Jumpsuit Ventures, Accel Ventures and Village Global.