Image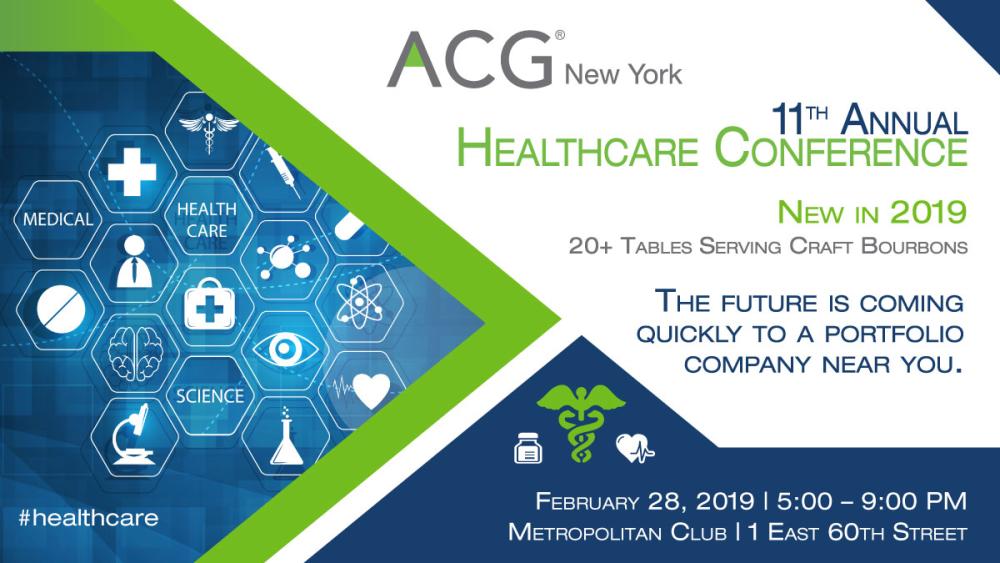 Event Details
When:
February 28, 2019 5 PM - 9 PM EST
Overview
The Future of Healthcare Dealmaking:
Are You Ready?
Come join us on February 28, 2019 to hear from leading healthcare executives, investors, and futurists on how the healthcare companies and models of today are expected to change rapidly over the next five years.
Our daily routines have changed tremendously over the past 20 years due to technology and innovative thinking.  Think of: Amazon replacing Retailers,  Uber vs. Your Own Car, Texts vs Letters, Protein Supplement Bars vs. Steak, Bank Apps vs. Bank Branches.
Healthcare entrepreneurs have taken note and are innovating to similarly transform this industry that consumes nearly 20% of GDP. Will they have the same impact? If so, what are the innovations most likely just around the corner? Our industry experts will share their perspective on the exciting innovative trends coming to healthcare.
New This Year! This conference will provide a unique opportunity to meet and dialogue with leading healthcare private equity firms, advisors, and other senior healthcare-related professionals over some of the finest bourbons on the market. Roughly 25 private equity firms that sponsor buyouts, recaps, and growth financings of healthcare companies across a variety of transaction sizes, verticals, and geographies will be hosting tables and serving bourbon to conference attendees to enjoy as they network with industry peers.
In addition, we will bring together industry professionals from investment banks and private equity firms for a series of one-on-one meetings for an opportunity to review and share deal flow opportunities within the Healthcare sector. Each bank will meet privately with a PE firm for 20 minutes to discuss recent firm activity, potential deals and broader market dynamics. Click here for more info.
WHO WILL ATTEND
Investment bankers, other M&A intermediaries, and healthcare operating executives, as well as healthcare lenders, investors in healthcare private equity funds, and other individuals from allied industries.  
After 2/26 Prices Increase: Late Registration/On-Site Registration prices - $400/$500 (Member/Non-Member)
Event Materials
Event Materials
Event Related Questions?
Contact Sarah Kuhns at skuhns@acgnyc.org or call 212-489-8700 x3
Thank you to our sponsors!