Image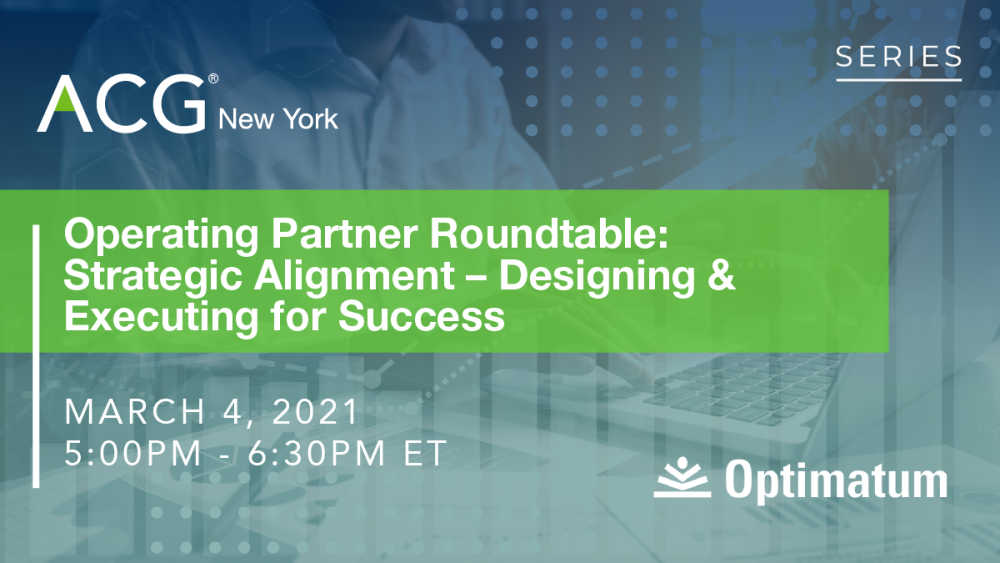 Event Details
When:
March 4, 2021 5 PM - 6:30 PM EST
Where:
Add to Calendar
Overview
Body
REGISTRATION IS NOW CLOSED

ACG NY Operating Partner Roundtable: Strategic Alignment – Designing and Executing for Success
This Roundtable will be focused on how Operating Partners are leading the strategic alignment of portfolio companies both internally and in their market-facing efforts:
Vertical Alignment – the organization strategy and the people they rely on to transform strategy into meaningful work
Horizontal Alignment – the combination of the processes, leadership, people and culture that bring what the portco is selling to its customer. It's the Value Chain...
The ACG NY Operating Partner Series of events and programs is strictly an Operating Partner peer-to-peer series of think tank meetings for ACG NY members and invited guests. Participants can share and discuss best practices while developing relationships in a convenient, enjoyable setting. The ongoing series in 2021 will be open to seasoned & emerging Private Equity Operating Partners and key service providers integral to M&A portco valuation.
Amongst other topics, the interactive series will aim to cover:
How operating teams work best with investment teams. Pre and post deals. Has this changed? 
The ongoing assessment of risks and actions portfolio companies have taken in response to the extended coronavirus crisis. How long will it continue? 
Key operational areas such as: Digitalization, Human capital, Salesforce effectiveness, Supply chain & procurement, Finance, Data analytics, Digital marketing & e-commerce, Cost improvement etc.
How to drive value creation initiatives in the aftermath of the downturn - what will the environment be like post COVID? 
How PE, strategic and other investor backed CEO's and management teams are looking at turnarounds, distressed situations and driving transformations within.
This event is by invitation only.
Sponsors
Attendee List
Event Materials
Event Materials
Please contact ACG New York for more information.

Pricing: 
Complimentary for ACG Members
$25 for Non-members
Future ACG NY Operating Partner Series Dates:  May 5, 2021, June 2, 2021 and July 22, 2021
All H2 Events, unless otherwise stated, are currently scheduled as virtual. As the year progresses and official guidelines allow, ACG NY will host the events either hybrid or in person. ACG NY always puts members health first and adheres to all federal and local public health standards. Please check our website for the most up to date information on all events and programs.