Image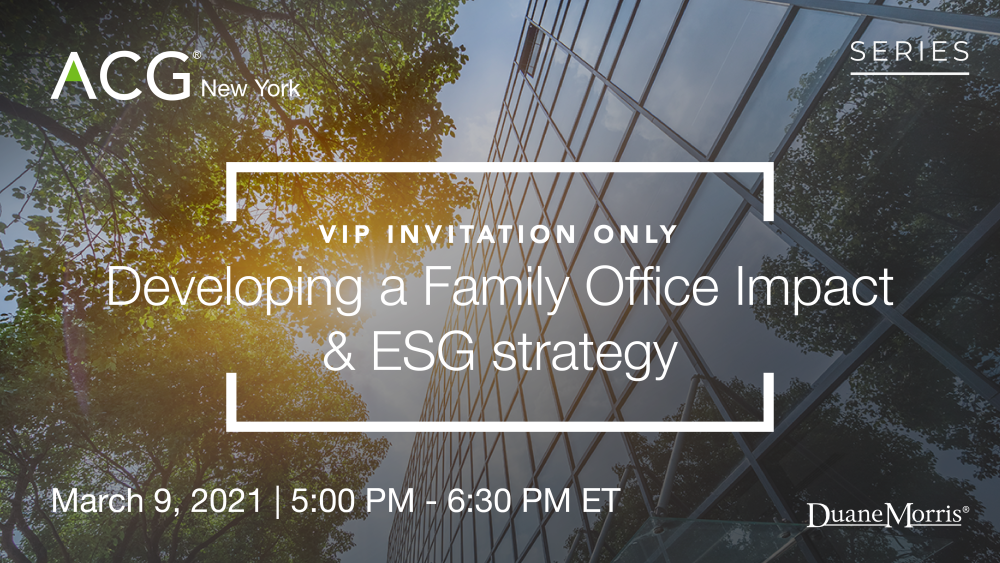 Event Details
When:
March 9, 2021 5 PM - 6:30 PM EST
Where:
Add to Calendar
Overview
Body
REGISTRATION IS NOW CLOSED 

Creating Investment Strategies that are Impactful while driving Financial Returns
President Joe Biden made it clear that combating climate change would be a significant agenda item and his administration has recommitted the US to the Paris Climate Accord while signaling support for low-carbon electricity and clean energy. This could mean additional government subsidies or tax breaks for wind and solar energy as well as fuel efficient and electric cars - making those sectors more attractive to investors. What other areas of Environmental, Social and Governance (ESG) areas are family offices targeting? What other factors are driving this shift? How does embedding ESG and Impact into portfolio measurement affect long-term performance and risk?
Join us for our expert panel of investors and advisors who are shaping how family offices define impact and ESG investing who will share some unique ideas and processes for developing a Family Office Impact and ESG strategy.
The VIP Family Office Series of events and programs is a strictly Single Family Office peer-to-peer series of meetings for ACG NY members and invited SFO guests. Participants can share and discuss Family Office best practices while developing relationships in a convenient, enjoyable setting.  
Sponsors
Event Materials
Event Materials
Pricing: 
Complimentary for ACG Members
$25 for Non-members
As a registered attendee, you will receive a passcode to view the playback of this event.
Please contact ACG New York for more information.
Future ACG NY Family Office Series Dates:  April 29, 2021, May 19, 2021 and June 7, 2021
All H2 Events, unless otherwise stated, are currently scheduled as virtual. As the year progresses and official guidelines allow, ACG NY will host the events either hybrid or in person. ACG NY always puts members health first and adheres to all federal and local public health standards. Please check our website for the most up to date information on all events and programs.