Image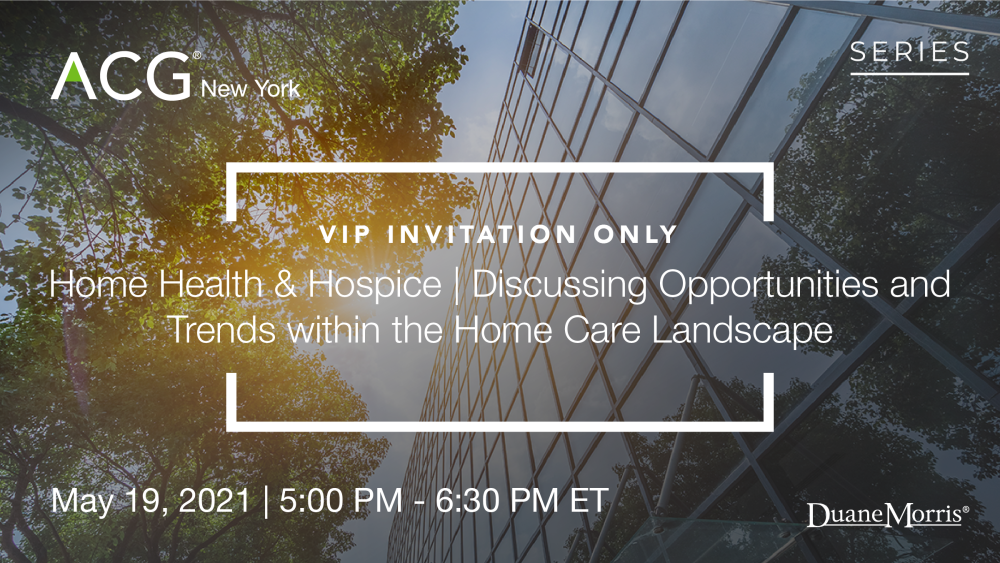 Overview
Body
Home Health & Hospice | Discussing Opportunities and Trends within the Home Care Landscape
Few industries have seen more consolidation over the past few years than the healthcare services sector. With the growing trend of home-based care even further emphasized through the pandemic, home health and hospice care continues to evolve and innovate. Record valuations in hospice in 2019 and early 2020 have continued post pandemic, while more and more new investors are entering the post-acute and home healthcare sector.
Join us for our expert panel of investors and investment bankers in the home health and hospice landscape, who will weigh in on the highly active market and share their thoughts on where the industry is headed, while discussing topics such as:
The impacts from COVID-19 and PDGM 
Industry outlook for the remainder of 2021 
The competitive merger and acquisition landscape 
Opportunities to diversify into new post-acute subsectors
Event Secondary Body
The VIP Family Office Series of events and programs is a strictly Single Family Office peer-to-peer series of meetings for ACG NY members and invited SFO guests. Participants can share and discuss Family Office best practices while developing relationships in a convenient, enjoyable setting.
CLICK TO REQUEST AN INVITATION
CHECK OUT THE FULL SERIES & DATES
Hosted by:
ACG
Sponsors