Image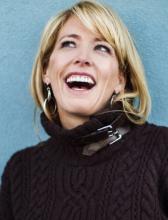 Jo Becker is a reporter in the investigative unit of The Times and was part of a team that won a Pulitzer Prize in 2018 for national reporting on Donald Trump's advisers and their connections to Russia. She is also the author of "Forcing the Spring: Inside the Fight for Marriage Equality." 
Ms. Becker has written about subjects as varied as Vladimir Putin's Russia, the Obama administration's lethal program to kill suspected terrorists, and the phone-hacking scandal that threatened Rupert Murdoch's media empire. She previously worked at The Washington Post, The St. Petersburg Times, The Concord Monitor and "The MacNeil/Lehrer NewsHour."
She won the Pulitzer Prize in 2008 for national reporting for a Washington Post series about Vice President Dick Cheney, of which she was an author. In 2017, Ms. Becker won a Pulitzer Prize for international reporting on a Times series, "Russia's Dark Arts," on the country's surreptitious assertion of power. She was also a reporter on a Pulitzer Prize-winning Times team that explored connections between associates of Mr. Trump's and Russia, and attempts to sway the F.B.I. director.
Ms. Becker was also part of a Times team that produced The Reckoning, a series on the 2008 financial meltdown; it won the Gerald Loeb Award for Business and Financial Reporting and was a Pulitzer Prize finalist for public service. Other awards for Ms. Becker include the Goldsmith Prize for Investigative Reporting, the George Polk Award for Political Reporting and the Selden Ring Award for Investigative Reporting.
She graduated from the University of Colorado in Boulder, and has taught investigative journalism as a fellow at Princeton University. She lives in New York, is wild about her greyhound, Humphrey, and loves riding horses on weekends.