Image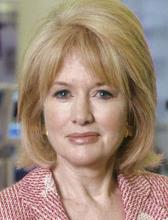 Anchor, Executive Producer and Managing Editor
Consuelo Mack WealthTrack on Public Television
Consuelo Mack has a long and distinguished career in business journalism. In 2005 she struck out on her own to launch her dream program, a weekly half-hour program on public television devoted to helping Americans build and protect their wealth over the long-term.  Now in its fifteenth season, Consuelo Mack WealthTrack is the only program on television devoted to long-term investing. It has been dubbed the "Cramer Antidote" by the press and Money Magazine named Mack "The Best Money TV Host."
Before developing WealthTrack, Mack spent over a decade at The Wall Street Journal as the Anchor and Managing Editor of its weekly, syndicated business program, "The Wall Street Journal Report."  During her tenure it won the Overseas Press Club award, the Gracie award and was nominated for a News and Documentary Emmy award for excellence in background and analysis. Mack's international experience includes being the Anchor and Editor of "The Asian Wall Street Journal Report," a weekly business program syndicated throughout Asia.
Mack also played a critical role in CNBC's strategic alliance with Dow Jones, the parent company of The Wall Street Journal. Anchor of a morning show, reporter for a daily "Strategy Session", she also anchored "Louis Rukeyser's Wall Street" in its final months on both CNBC and PBS.
She has received several honors including the first Lifetime Achievement Award for Women in Print and Electronic Financial Journalism from the Women's Economic Roundtable and the Malcom S. Forbes Public Awareness Award. In 2014 she was given the YMCA's of Greater New York Dodge Award, a recognition presented to outstanding individuals who epitomize their tradition of humanitarian service. 
She is a member of the Economic Club of New York, the Council on Foreign Relations, The Women's Forum and is a member of the YMCA of Greater New York Board Emeritus and the Museum of American Finance.