Image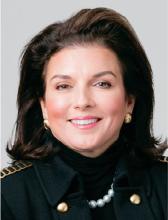 Senior Director and Associate General Counsel
Linda Filardi is a Senior Director and Associate General Counsel at Capital One Bank, where she is responsible for the Commercial and Industrial Business, which includes Sponsor Finance, Core Middle Market and the US Corporate Group. Prior to joining Capital One, she was the Deputy General Counsel and Corporate Secretary of Antares Capital, a $12 Billion Debt Fund, which was previously the leveraged finance business of GE Capital sold to the Canadian Pension Plan Investment Board, where she spent most of her career managing all aspects of the Sponsor Finance Group's New York and California based-leveraged finance transactions including originations, structuring, execution, portfolio and risk management as well as workouts and bankruptcies. Linda served as the Vice Chairman of General Electric's Political Action Committee ("GE PAC"); and has received numerous business and legal awards for her work on the GE PAC and in the Sponsor Finance Group. Linda is a member of the Loan Syndicated Trading Association's Primary Market Committee and the Practicing Law Institute faculty on Going Private Transactions. She has served as a moderator/panelist at numerous industry leading conferences on Leveraged Finance and is an author of publications in the area of corporate reorganizations/corporate finance.  Linda joined GE Capital asSenior Counsel and Compliance Officer in Tokyo, Japan, covering all legal and compliance aspects of GE Capital's commercial finance group in Ja- pan, China, Taiwan, Korea and Thailand.
Linda started her legal career at the law firm of Debevoise and Plimpton.  Before beginning her legal career, Linda was an Assistant Treasurer at American Express Bank where she worked as a credit analyst in the aircraft leasing division after completing the nine  month Credit Analyst Management Program.  Linda serves on the boards of the Quogue Junior Theatre Troupe and East End Hospice, where is a member of the Finance Committee and the Development Director.
She received her J.D. Magna Cum Laude from Seton Hall University School of Law in 1991, where she was Notes and Comments Editor of the Seton Hall Law Review, and authored a Law Review Note on employment discrimination. She completed a Masters Program in International Affairs and Economics in 1983 from The Johns Hopkins School of Advanced International Studies (SAIS) and holds a B.A. in Political Science in 1981 from SUNY, including studies abroad in Paris, France and McGill Univer-  sity in Canada.