Image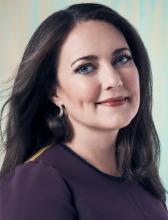 Sarah Kauss is the founder and CEO of S'well -- creator of the original fashion hydration accessory. Launched in 2010, she married her passion for fashion, hydration and philanthropy to disrupt the reusable bottle industry and transform the on-the-go, drinking experience. Sarah has been recognized as a Fortune's "40 Under 40" honoree and EY Entrepreneurial Winning Woman, while S'well has been named #1 Fastest-Growing, Women-Led Company by The Women Presidents' Organization and honored with the Brand Design award by Inc. magazine. 
As an entrepreneur and advocate, Sarah is building a global lifestyle brand that gives back. She currently sits on the UNICEF USA New York Regional Board and is a member of the 2018 Class of Henry Crown Fellows within the Aspen Global Leadership Network at the Aspen Institute.  
Prior to starting S'well, Sarah was an international real estate developer and CPA. She earned a degree in accounting from the University of Colorado, Boulder and an MBA from Harvard Business School.